Wrath is a minor antagonist hacked by Greg in ''The rewritten nights of Freddy's''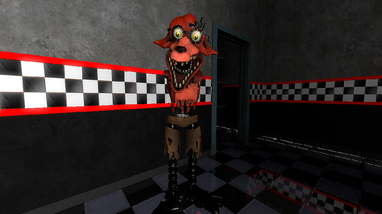 Wrath's appearance like that of Scrap Foxy and Salvage Terror Foxy, is a heavily broken down Foxy animatronic but with the difference he's an older model of said animatronic. He is missing his arms, ears, eyelids and most of the suiting on his legs.

Wrath works similar to ''Grunkfuss the Clown'' from One night at Flumpty's 2, in which he mostly just sits in one location of the building (This being the parts and service room) and waits there for a certain amount of time, unlike Grunkfuss however instead of having a timer to indicate when he's about to attack you have to watch for how fast he's twitching as he gradually gets angrier and angrier, once he snaps he will rush to the office at an unremarkable speed with little time to react unless prepared, you must close the left door in time or he will jumpscare you leading to a gameover.
Once he stops banging on the office door he'll calm down and return to the parts and service room where the cycle repeats.
Community content is available under
CC-BY-SA
unless otherwise noted.